Taken from the alabaster effigy of William of Hatfield, Edward III's son who passed away at a young age (11?).

This cloak is a single layer of thick fulled wool, pieced together from 8 triangles to get a greater hem circumference. Surviving examples of dagges from London finds have shown them to be a single layer of wool with simple cuts to form the decoration. I used a cardboard template (pictured below) to give me a guide of where to snip the hem in order to create the dagges. I took the inspiration for the dagge pattern from what I could determine of the dagges on the effigy cloak. Finally I used a Pelican cloak clasp instead of the four buttons on the shoulder since this was for Master Callistus (Calli) Gil's elevation to that Order.
I have yet to find any other examples of a cloak of quite this design and decoration. There are depictions of Edward the Black Prince, Lionel Duke of Clarence, and Edmund Duke of York wearing a cloak in this manner of fashion, with the opening buttoned over the shoulder instead of clasped at the throat. The
Duke of Clarence's cloak
does appear to have simple scale dagges at the hem, but not all the way around as William's does. Again extant examples of dagges are recorded in the Museum of London's book on
Textiles and Clothing
. Several different samples show a range of designs from simple long thin feather-like dagges to round oakleaf shaped dagges.
Clicking on the images will take you to a larger version.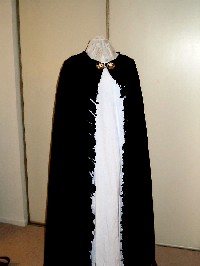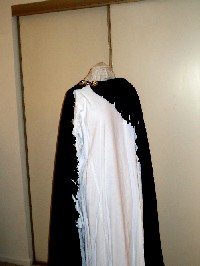 Close up of dagges and the template used to cut the dagges from
Cloak clasps are from
Drachenstein Treasures
Resources: