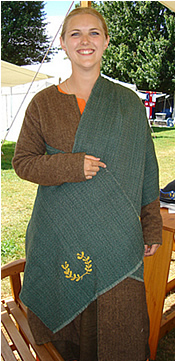 This is an example of one of the few Arts and Sciences emergencies in the SCA.

Our group of friends was informed of the impending elevation of Baroness Catherine Grace Fitzlewis to the Order of the Laurel at Pennsic 37 just 20 hours before the Crown wished her to sit vigil. Vair and Ermine set to doing their classic services to prepare for a last minute vigil in our camp, including Kyneburh and Ariana shopping for food, fighters cleaning out and airing the arming tent, Aedan loaning furniture and carpet for the occasion, Theo and Kathall painting a canvas with her arms to display, camp mates setting out hospitality, and running the vigil line.
Thjora and I went shopping for something to make a last minute outerwear garment just for Catherine and stumbled across some beautiful green handwoven wool (ironically woven by a lady from Catherine's home kingdom), and we then fetched yellow Eterna mini-twist filament silk thread to embroider the laurel wreaths upon the edges of the fabric to make a shawl. That afternoon we set to work, Isobel sketching out the placement for the laurel wreaths, consultation on the embroidery, and then I started working on the embroidery.
By 3am the morning of her elevation, the first wreath was complete, and the second wreath had the vine and large stitches to ellude to the leaves. The vine was done in reverse chain stitch, and the leaves were done in ceylon stitch. I completed the first vine, and all the leaves on the first wreath. The vine for the second wreath was embroidered by Lady Guenievre, Mistress Thjora and Baroness Janina. The shawl was presentable for the ceremony, and then I apologized to Catherine and retrieved it in order to finish the leaves on the second wreath. Those leaves in ceylon stitch were completed that night and the shawl was delivered back to Catherine Grace the next morning, 60 hours after notification from the Crown. On the whole I am rather pleased with the work accomplished in the time it was accomplished, considering it was mostly done by lamp light. It was a pleasure to do, and I am glad we were able to assist in making a vigil and elevation package come together for such a wonderful and deserving lady.
Detail pictures:
The completed embroidery


The first complete wreath, apologies for the chalk smudges


The second wreath is complete.

Links to more information :
Ceylon Stitch instructions: http://www.plimoth.org/userfiles/file/Ceylon%20Stitch.pdf
Reverse Chain Stitch instructions: http://www.plimoth.org/userfiles/file/Reverse%20Chain%20Stitch.pdf