Summary: After my experiences with the Plimoth Plantation recreation of a 17th Century lady's embroidered jacket, I wanted to test out the techniques I learned on a small project. I also wished to create a gift of my appreciation for my Mother-in-Law for her hospitality. I decided to try a small 4x6" panel that is easily framed for display, but also something she could use to show the type of embroidery being done at Plimoth Plantation.
Evidence: The Victoria and Albert Museum in London has a few embroidered panels from the late Sixteenth and early Seventeenth Century. These panels might have been for cushions, but might also be exemplars of a workshop's pattern and skill. While mine is a small panel, most often these surviving panels are rectangular and around 30" x 9". The Boston Museum of Fine Arts has a small collection of embroidered items from the same time period, and I have been lucky enough to see three women's coifs and two men's nichtcaps in similar styles.

Process: I asked Alan to pick out a main central design from Laura Mellin's Arabella coif pattern I purchased, and he chose the carnation for his Mom. I traced the design onto some linen, taking the main element and adding in some of the other smaller elements from the pattern to add variety to the finished design. After drawing the design out in pencil, I went over the tracing with a fine ink pen. Then, using the stitches learned from the embroidered jacket project, I set to slowly filling in each area with color.

The stitches used are the reverse chain stitch, back stitch, ceylon stitch, detached buttonhole stitch, detached buttonhole needlelace for the detached wing, trellis stitch, the plaited braid stitch, and a stem stitch for the outline. Tricia Wilson prepared detailed PDF instructions for many of the stitches that were made available on the Plimoth Plantation Embroidery Blog and with any sampler kits ordered.

Most of the design had the silk pearl portions outlined and filled in first, and then I moved on to the Gilt Sylke Twist areas of the design. Only after the colored silk areas of the design were completed, did I move on to filling in the vine on the panel with the plaited braid stitch in a simulated gold thread. Original metal threads were a silk core wrapped with gilt wire/ribbon, but I used a thread with a cotton core and lurex wrap which will not tarnish. Next the spangles were added, and then the panel was hemmed.

Lessons: I learned that it is best to plan out all aspects of the project before even starting. I should have drawn out the full design on paper and assigned colors initially instead of pulling design elements on the fly and drawing them onto the linen. Using a higher count linen would have helped with both improving the evenness of the tracing, as well as putting up with the tension of the stitches. I think it meets the goal of showing off the techniques as well as creating a gift that I hope my Mother-in-Law enjoys.
In progress pictures:
The design inked out and some elements completed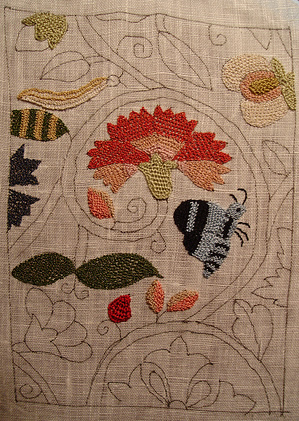 All of the colored silk portions filled in


The detached butterfly wing prior to being sewn on


Showing the plaited braid stitch vine in progress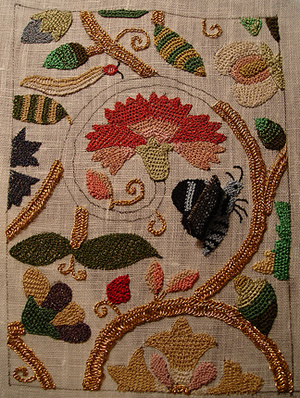 Links to more information :
Extreme Patterns' Arabella Coif Pattern, available at ReconstructingHistory.com
Gilt Sylke Twist threads purchased from Tricia Wilson, of Thistle Threads
Plimoth Plantation Embroiderer's Story: http://thistle-threads.com/blog/
Boston MFA Accession # 43.248 Woman's coif, c. 1575-1625, Linen embroidered with colored silk and gilt-silver threads on linen ground. This coif contains striped, heathered, and color-blocked leaves that I tried to use in the panel.
Boston MFA accession # 34.226, Woman's coif, late 16th to early 17th century, Linen embroidered with colored silk and gilt-silver threads on linen ground, metallic lace around the face edge. Coif contains metal striped and color-blocked leaves.
V&A Collection T.396-1988, 1600-1630 hanging, Linen embroidered with colored silks
V&A Collection T.280-1927, early 17th cent pillow cover, Linen embroidered in silk, silver thread and spangles
Embroiderer's Guild, holds an extant panel akin to the embroidery on V&A Collection item 1359-1900, the jacket the motifs were taken from for the Plimoth Jacket Project.