The Judgment of Paris Pas d'Armes was held in the Barony of Lochmere, on September 30, 2000. The premise was that when Paris was given the decision to choose the fairest goddess, Juno, Minerva, or Venus, he based his decision on the proposed gifts, and not on the virtues of the goddesses. Therefore a Pas was held to determine the champion of each goddess and the overall champion. The overall champion was given the choice of Paris, to choose the fairest goddess, based on her virtues. Juno represented Loyalty and Prowess. Minerva represented Courage and Wisdom. Venus represented Love and Courtesy.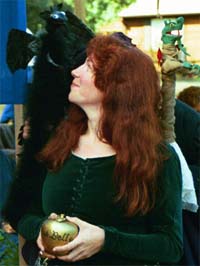 Eris "Discord" with Golden Apple and Evil Minions

The procession to the field. Cupid was my herald, and Lady Brighid played my Dove carrying the courtesy prize of decorative arrows.

The three goddesses upon the dais. To the left, Minerva in black and gold with her owl holding the gorgon head shield. In the middle sits fair Juno in purple, with her peacock behind her in green. To the right is Venus and her dove in red and white.

The defenders introduce themselves to the goddesses and challengers; left to right- Pandar, Troilus, Jason of the Argonouts, Diomedes, Agamemnon, and Achilles hidden behind Aeneas.

Here Venus sits in state upon the dais, attended by my Dove, entertained by Discord.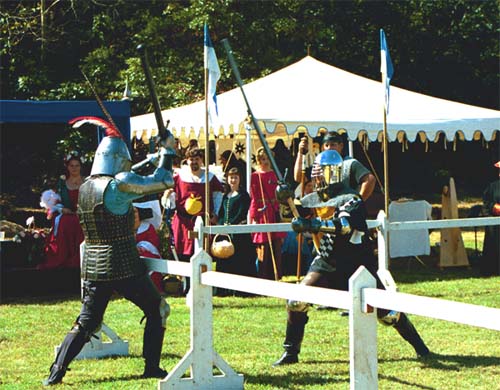 My lord, Master Alan (on the right), fights Hector at the barrier.
Photographs copyright © 2000 Melissa Petrak