I was asked to make a cloak for Duena Livia of Ravenswode's elevation to the Order of the Pelican in February 2007. Since I think very highly of her, I was glad to offer my services.
Her colors are red, blue, gold and silver, so I purchased some burgandy wool from B. Black and Sons and found blue silk noil in my stash, as well as silver and gold silk thread for creating the trim. After determining that she didn't prefer a particular cloak style, I made a standard 3/4 circle cloak from 6 gored-panels. I used Theodora's embroidery machine to embroider the emblem of the pelican in her piety at the collar, and to embroider the two main motifs from her arms along the hem. The phoenix appears on her right, and the moon in her complement on the left to resemble the placement of the charges on her arms.
Finally I made trim of whipcording using the gold and silver silk to apply to the front edges. Three and a half yards of trim were made using my whipcording bobbins. Since the two colors of silk thread were of slightly different thicknesses, the resulting trim had additional texture to it with the sunken silver threads. The trim was sewn to the front edges and neckline of the cloak crisply topstitching the front edges as well.
Detail of the applied trim and embroidered pelican.

Detail of the hem with charges from her arms embroidered along the edge.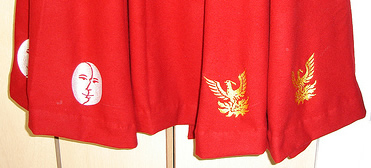 The 3.5 yards of whipcorded trim for the front edges of the cloak, and the trim during creation.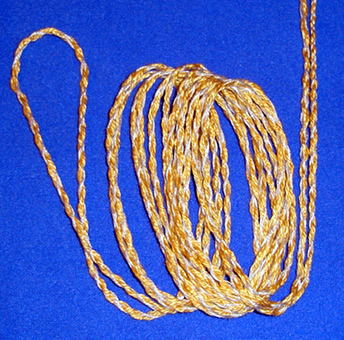 Back of the finished cloak.