Nikulai's Pelican Coat in the Russian Style
I chose a simple collarless coat from 16th century Russia based on the research of Master Mordak in the Midrealm to replicate for Nikulai upon his elevation to the Order of the Pelican, June 2003. It is made of maroon wool melton in a twill weave, lined in black linen-cotton blend. The resulting coat was quite heavy and warm enough for Ymir 2004.
Nikulai modeling coat at Ymir '04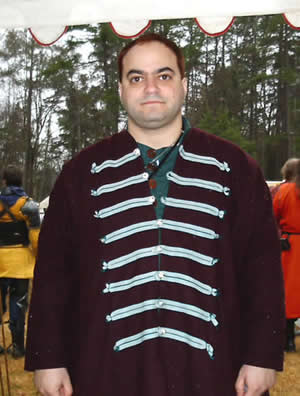 Pattern:

The pattern drafted is very geometrical. The front and back panels, 4, are simple rectangles with a width of half the distance from shoulder to shoulder. A triangle is cut at the top center of the two front panels to allow for the neck hole. 2 rectangles for the sleeves have a fold at the top and are as long as the length of the arm from shoulder to wrist and wide enough to go around the bicep. The 4 flared gores make up the difference around the body between the body panels. They extend from the sleeve to the hem and flare for added walking room. Lastly square sleeve gussets at the arm pit, 2, folded in half so that the profile is a triangle, ease movement of the shoulder joint.
Modeling the side piecing of the coat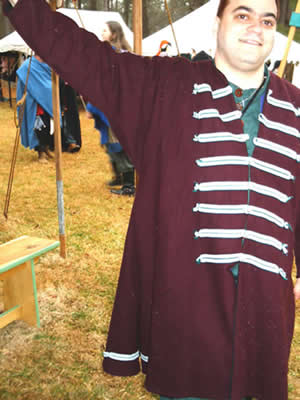 Full coat view & Showing machine embroidered pelican patch on right sleeve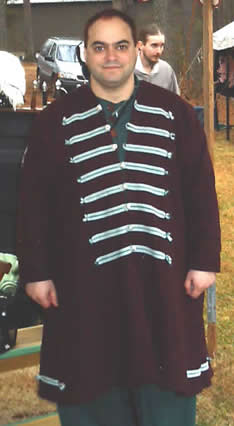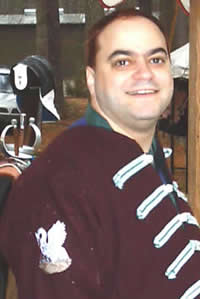 Close-up of the trimmings on the front

Trimming:
The trim is a woven cotton-rayon ribbon in a pattern feasible for the time period and easily achieved with tablet weaving. 10 yards was used on the entire outfit. The trim is laid in loops on each side of the coat closure, and the side vents. These were hand stitched in place and tacked together at the ends to create the little tassel or puff. While the loops on the right hand side are tucked underneath the trim, the loops on the left side are left open to allow for the buttons to pass through and close. The 10 buttons are pearle cotton wrapped around a wooden core with smoky glass beads at the top. The documentation used showed evidence of wrapped buttons, although they and the trims used would have more likely been wrapped and woven with metallic thread.
Disclaimer: Ideally the coat would be worn with a cloth sash at the waist for a belt to hold it closer to the body to keep warmth in. Also, the white specs in the pictures are not fluff, but instead the flash reflecting off of the water droplets collected on the coat from the rain, the cold cruel rain of Ymir, the frost giant.