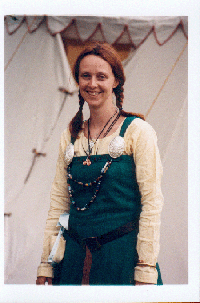 This is a simple and incomplete Viking outfit created for Princess Signy Halfdansdottir, when she was Queen of Drachenwald.
The outfit consists of:
a simple tunic
an apron dress
held up by turtle shell brooches.
What is missing is:
an additional underdress
an over caftan/jacket
a woven cloth belt.
Click on the smaller images to see larger versions.
Use the Back button on your browser to return to this page.
Tunic: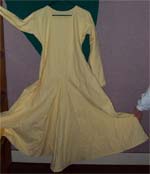 In this case I chose to use the St. Louis Tunic as the basis for constructing the tunic for this outfit. While this is a 13th century extant garment, I figured that it is simple in pieces and construction, and something similar to this tunic may have been worn by the vikings. That and I wanted to give this style a try. Two things that I did alter was to scoop the neckline instead of making it a V-neck and instead of using one piece sleeves, I used diamond shaped gores for underarm movement instead of the trapezoid sleeve pieces. This is similar to the sleeve construction that Black Swan Designs uses for their Saint Louis Smock for sale. I used a tightly woven butter yellow 100% linen for this tunic. I thought about sewing the entire garment by hand, but am glad that I choose not to since hemming and sewing the cuffs and neckline was tough enough. In reality, this tunic should be richly covered in embroidery, along the neckline, cuffs and the seams as a means of finishing the seams. However, I ran out of time for the delivery and the linen was so tightly woven that I would have hurt my wrists trying to embroider it. Hopefully the owner will be inspired at some later date to decorate it properly.
Apron:

The apron dress was constructed using a theory of the pieced together apron that was more fitted throughout the torso. This apron dress in particular is constructed of a front trapezoidal piece that is wide to accommodate the bust, tapers down to the waist and then flares back out again for the skirt. The back is a simple rectangle that flares at the waist and there are two side pieces that are thin rectangles to the waist and then also flare out to create a nice full skirt. Mistress Thora Sharptooth has drawn up this scematic, that my pattern is similar to, only allowing for a fuller skirt. The apron has long loops sewn to the back of the apron at the top and small loops sewn to the front. The apron is held in place by tortise shell brooches connecting these two loops at the front of the gown. In practice, practical items such as snips and keys as well as necklaces of beads were suspended from these brooches in daily wear. These brooches were purchased from Raymond's Quiet Press, who silver plated them at my request for a small extra fee. The embroidery along the front of the apron is using a typical viking motif of a twining vine, worked in stem stitch using red silk floss.
Additional Images:
Photographs copyright © 2001 Shane Gainer